Tutorial: Streaming from your own website
I'm posting this in response to the
news
posted by
vchrusch
that Imeem will no longer be allowing vids on their site.
Here's the tutorial for how to stream on LJ
.
This tutorial shows you how to stream video from your own website using free software and HTML. The settings here are for SUPER (Win only) which are different than the ones I use with
On2's Flix
($39 Win or Mac). It seems that Flix generates better quality, and to me, it's an easier program to use.
guest_age
has also recommended Visual Hub for Mac users.
1) Windows users can
download SUPER
to convert videos to Flash (FLV) format. (It's free software, so they make it kinda hard to find the actual download link.) I think SUPER will convert pretty much whatever video file type you can throw at it.
Once you've installed SUPER, you'll see something like this: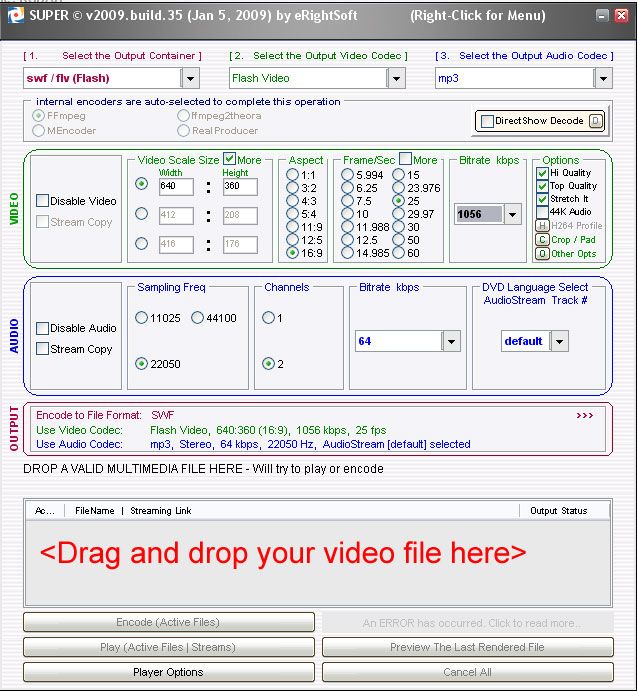 For a 16:9 streaming video file, try these settings.
Output:
swf/flv (Flash), Flash video codec, mp3 audio codec
Video:
640x360, 16:9, 25fps, 1056 kbps bitrate. Keep Hi Quality, Top Quality, and Stretch It checked, and Uncheck 48K audio.
Audio:
22050 Sampling Freq, 2 Channels, 64 kbps bitrate
You can try different settings to suit the frame sizes and frame rates of your own videos. I try to keep my streaming files around 25 mb or less, depending on the length of the vid.
Once you have your FLV file, you can upload it to a folder on your website.
For Mac users using Visual Hub,
guest_age
has posted some settings screen shots
here
.
2)
Download the JW FLV Media Player
. Unzip the file and upload all of those files into a folder on your website. (The folder is "flvplayer" in this example.)
3) Lastly, you need the
embedding code
. Use this
SETUP WIZARD
.
Click on the "Embed parameters" link and enter the following:
Source:
http: //www.YOURWEBSITE.com/flvplayer/player.s
wf
Height:
380 (Note: +20 pixels to make room for the control bar on the bottom)
Width:
640
Click on "File properties" and enter the location of your FLV file.
File:
http: //www.YOURWEBSITE.com/streaming/YOURFLV.f
lv
Click on "Update Preview & Code" and copy/paste the generated code into an HTML file and upload that HTML file to your website.
That's it for a very bare-bones streaming video file hosted on your own website! Click
here
for a sample.
You can play with all the embedding code parameters for different colors and such, and you can even download
pretty skins
for your FLV player. If you want to change the video frame size, you might want to test out different embedding heights and widths so that you don't have black bars with your video.
If you're using a blog or any other content management system, you might need a plug-in to work with streaming files. For anyone wondering, on my own site, I use
Joomla
with the
All Videos
plug-in.
I'll be tracking this post, so if anyone has any questions, hopefully I'll be able to answer. :)